The LWC family has hundreds of students and hundreds of stories, and we care deeply about each and every one of them.
Here is Mia's story, just one among the many that we so loved to experience and to share.
---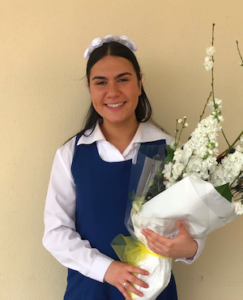 What is your Name?
Mia Toda.
Which School did you attend?
Loreto Kirribilli.
Which subject did you receive tutoring for? ,
I received tutoring for English Advanced and English Extension 1 and 2. 
When did you come to LWC and why?
I came to LWC when I was in year 10. My brother had actually received tutoring from LWC for Standard English when he was in year 12 and had found that it really helped his understanding and skill.
I was looking to push myself further in English, to extend my understanding of the skills needed to excel in the subject and to further my understanding of the theoretical content behind the selected texts.
How did LWC and your tutor help you prepare for exams and assignments? 
My tutor (Chris Lake) specifically aided in the deepening of my understanding of each text I studied.
He provided purpose behind what I was studying by framing the text in the context of the module. Through this clarification I found it much easier to prepare for exams and assignments because I knew the overarching purpose of my arguments.
Chris provided context for each text, clarified and deepened concepts surrounding each of them. He also continuously checked in on my writing to ensure that my ideas were communicated clearly and concisely.
He answered all questions I had and was a great support for when I was feeling overwhelmed or confused. 
What was the thing you enjoyed the most about the tutoring experience?
English quickly became my favourite subject as I began to engage with the theoretical and conceptual aspects of the texts.
As a result of my tutoring, each text became more relevant and important to my everyday life. I felt that I had learned new ways to view and make judgements about my own life.
English as a subject, which had always seemed so frustratingly elusive in previous years, finally felt as if it had real-world relevance. 
What was your biggest success?
Other than my actual enjoyment of the subject, I was very proud of my final school ranking and results. Seeing a Band 6 in English Advanced and an E4 in English Extension 1 meant that all of the hard work I had put in had paid off.
What was the best lesson you learnt?
I think the best lesson I learnt was the fact that the texts studied in English offer fascinating insights into many core questions about life.
Questions such as – Why do we live the way we do? What is the meaning of a "good life"? Why do we feel the need to achieve happiness?
These bigger questions, which seem impossible to answer, were explored and I felt that with each new perspective I learnt, the greater my outlook on life became.
To know that words on a page could have an effect on my own life and on  society was a very important lesson to learn.
What are you planning on doing after school? 
I am studying a Bachelor of Arts/ Bachelor of Advanced Studies majoring in Politics and International Relations. I am very open about the future but I have a desire to become involved in areas relating to Humanitarian work or International Diplomacy.