Many students have come through our system here at Learning With Confidence and we would like to begin sharing some of these stories.
Tutoring is much more than just improving grades. It's an opportunity to expand a student's mental horizon whilst also ensuring that the learning process, which occurs both in school and outside educational institutions, can move confidently.
---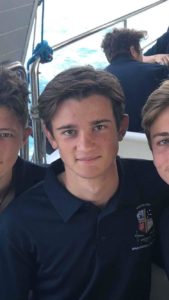 What is your name?
Ben Lonie.
Which School did you attend?
St Joseph's College.
Which subject did you receive tutoring for?
English.
When did you come to LWC and why?
I first came to LWC half way through year 11 when I began to feel as though my class was putting me at a disadvantage.
I heard a family friend talk about how positive their experience had been with LWC, so I signed up in the desire to break out of the band 5 range.
How did LWC and your tutor help you prepare for exams and assignments? 
At LWC Alexander Kelly was my tutor. In the lead up to exams, Alex was really helpful as he guided me towards more sophisticated analysis whilst also providing a foundational appreciation for the text.
The approach to preparation was always clear and organised as Alex always made time to mark my work and provide informative insight I would not have received in the classroom.
The most valuable aspect of my tutoring with Alex came during the inventible panic and second guessing the night before deadlines. Alex would quickly reply to my texts and make the extra effort to re-check work despite being late at night.
Finally, in the quiet time after deadlines and exams, Alex's exploration of ideas and concepts not taught in class were highly engaging and critical for me to reach higher marks.
What was the thing you enjoyed the most about the tutoring experience? 
At LWC I really enjoyed the personal approach taken towards my learning.
Alex was always extremely engaged, friendly and energetic in sessions even when I wasn't concentrating as much as I should have been.
I was never talked down to and Alex was always happy to have a discussion with me if I disagreed with ideas. By treating me as an equal and willing to joke around with me in sessions, the hour was both extremely positive for my marks and a lot of fun.
I also really appreciated that the tutoring was able to extend my mind to consider concepts which just aren't capable of being taught to a big cohort as a result of their complexity.
What was your biggest success? 
My biggest success was the refinement of my creative writing. It was always something that I found difficult. I was usually unable to formulate an idea and write in an engaging manner.
By discussing story ideas with Alex I was able to radically improve my marks by creating interesting narratives and developing my writing style.
What was the best lesson you learnt?
The best lesson I learnt was to appreciate the texts I was studying.
I gained an appreciation by analysing concepts I found interesting, ultimately making writing about the text much more enjoyable.
What are you planning on doing after school? 
I am planning on studying Politics, Philosophy and Economics at the University of Queensland.